The next day we rode by Bus to Dali. The trip took several hours, and it was more of that glorious mountain view the whole way. I spent pretty much the entire trip watching out the window and taking pictures.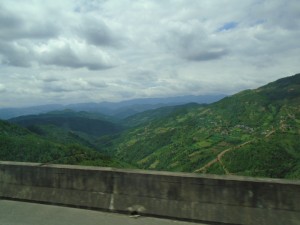 Along the way we took a rest stop at in a town called Yongping. It was pretty much like any truck stop you would stop at on the edge of any small town in the U.S., except most the town's architecture was in that old Chinese style which I'm a big fan of. Off to the side was a row of hedges around a sign supported between 2 pillars; the whole thing was covered in webs occupied by a bunch of spiders that looked similar to Orb Weavers. The rest stop had a large and reasonably clean restroom which was nice, and the standard convenience store with a large selection of snacks, candies, beverages and souvenier-like items. All of these items were aimed at women – shoes, jewelry, purses – and I grabbed a couple of ornate cloth person shaped like fish to give to my mom & sister back home. At 14 RMB each they were very inexpensive – that's about $2.23 USD.
As I was waiting to check out at the register, there was an explosion outside. It wasn't quite an earth shaking explosion, but it was definitely something blowing up outside and was way to powerful to just be a vehicle backfiring. Everyone in our group was very startled and started looking around; somewhere across the street a small cloud of smoke was rising. But locals didn't seem phased, there didn't seem to be any buildings or anything where the smoke was rising from, and there was no screaming or panicking or sirens. So after a moment we shrugged it off and went about our business. Never did find out what it was, maybe it was a nearby mining operation or construction or something.
After hours on the road, the arrival at Dali felt very sudden. We took our hundred-someteenth turn around some mountain and then bam – suddenly we're in a city.
The city of Dali is pretty big, at least by my standards. It has a population of something like 6 and a half million. It also sits an elevation of about 6000 feet. It has a long history, with the original town of Dali being a walled town that is several hundred years old. And unlike many of the old Chinese towns, Old Dali stills stands in it's original form. The sprawl of city surrounding it is called New Dali, and it's growing rapidly. One thing that struck me as very unique is that in the middle of this big city, there is still a lot of farming going on.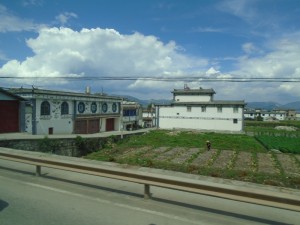 We had the pleasure of staying at an ancient hotel near the heart of Old Dali. The building was around 500 years old according to our guide – of course it is maintained in a modern style, retrofitted and reworked to have plumbing and electricity and the like. Although on the outside it did appear as mostly real, original, unspoiled ancient Chinese architecture, the inside of the rooms felt like any basic economy hotel room you've ever stayed in. Unlike all our previous 4 and 5 star hotel stays, this place was very simple and humble. I liked it – my grandfather was not such a big fan of the rooms due to the dim lighting and smaller, stiffer beds. It was also just a lower class place in many ways – where the higher end hotels provide a separate lotions, soaps, shampoos and conditioners, flat screen TV's & free teas and fruits, this place had a 3-in-1 bathing soap dispenser and 2 free condoms on the night stand. And an old school CRT TV.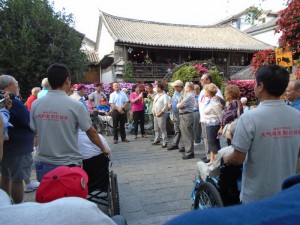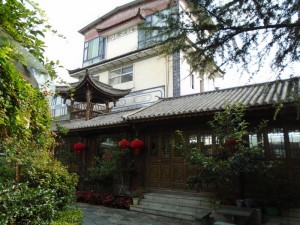 But there was no denying the wonderful atmosphere of the hotel. It was called the "Landscape Hotel" because there are impressive gardens and plant arrangements throughout the place. It is divided into 6 court yards, each one with a garden in the center and beautiful paintings on the walls (actually on the walls, not hung pictures). It had a covered bar and other covered benches that were also very ornate, brightly colored & built with that classic Chinese architecture. Along the stone paths were more flowers & garden plants, more great paintings on the walls and a koi pond full of beautiful fish. There was also a restaurant area, and a couple of small shops selling awesome stone & marble works that Dali is apparently famous for, as well as some jewelry made with the same polished stones.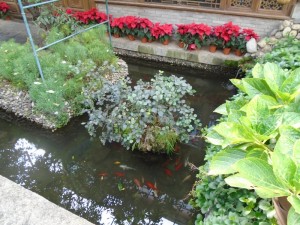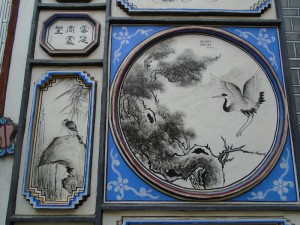 And there were books. Along some of the walls around the central sitting areas were bookshelves containing all kinds of books. Of course, they were all in Chinese so I didn't spend much time reading. But I definitely appreciated the fact that they just had a large selection of literature for anyone who just felt like lounging around and reading.
We didn't do much in the way of events or activities that day. It took a while to get all our rooms sorted out and many of us were feeling rather frustrated by the time we finally got our rooms. After finally getting my room and dropping off my bag, I came back out and found a couple of guys in our group setting in one of the bench area's with a beer, which was apparently available in the restaurant just a few feet away. So I grabbed one of my own – a large Dali beer that only cost about two and a half bucks – and joined them. It was good to just unwind and relax for a bit. A little while later my grandfather sat at the next bench area over to be interviewed by a movie producer who's working on a production about flying the Hump. After a few minutes I moved over to their side to listen in.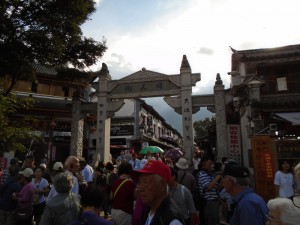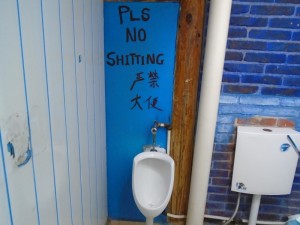 Later we walked a few blocks into the central part of Old Dali to eat dinner at a place called "Yunnan Cafe". There are no cars in this area, only scooters/bikes and foot traffic. It's basically a shopping & eating district. The Yunnan Cafe is 2 stories and also has sidewalk seating, which is what I opted for. The food was good, and we sat around eating and chatting until after dark. After that, the group left sporadically and my grandfather & I went off on our own to go back to the hotel.
We got lost. It was not a complicated route but when we got to where we expected the hotel entrance to be, we didn't find it. I ran up and down the block looking for it to no avail. Finally I turned on the location tracking on my phone and we navigated that way; later I realized that I actually had run into the parking lot early and just completely failed to recognize it in the dark!
The next day was full of activities. We toured the factory of a tobacco company that sponsored part of the trip, then went to a tea factory where we toured their tea museum and enjoyed a tea ceremony. After that we drove all the way across town to a government building where dinner was being hosted. This was not a very pleasant journey; it was pouring rain so the the drive was slow and when we finally got there, the parking lot was so small it was almost impossible to get the buses into it. Ten minutes of maneuvering later, we were in but had to wait another 10 minutes inside the bus for the rain to die down. Finally we got inside, where we were shown a presentation of their future city planning before finally getting a chance to eat.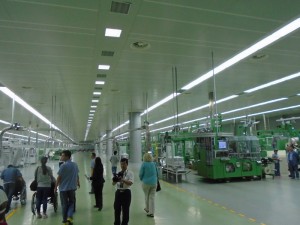 The Mayor of Dali came to eat with us but because of the traffic and weather, we were already done eating when he arrived. So we just hung around for a few minutes so that he could meet people and all that; a lot of us were eager to leave, but we didn't want to be rude to the Mayor who had just spent all that time driving to be with us.
By the time we got back to the hotel, it was almost dark and the mood was not that great. But we were finally free; my grandfather decided to go to his room and call it a night so I went out and met up with some others in our group for a couple of beers. I ended up at a place called the Bad Monkey bar which was a pretty decent watering hole, and they actually brew their own beer (not on site though). I tried their IPA (it was good!) and bought a couple of their t-shirts before returning home a little after midnight and hitting the hay.
We were getting close to the end of our journey at this point. The next day we would fly back to Kunming for 1 night, then to Beijing for 1 night and then finally home.