Finally time to post something on here that isn't about China 🙂 I'll be going to Costa Rica in 2 weeks with a couple of friends and figure I might as well blog it up while I'm there. It's going to be 8 days of adventure packed travel and debauchery! We've got sky diving, ziplining, white water rafting, horseback riding and more on the itinerary and there is bound to be a plenty of drinks and shenanigans in between. It's gonna be great 😎
On an unrelated note, I've started a fun new business selling patent art! It's called Patent Earth. So far I've got a modest but rapidly growing selection of awesome patent art prints, a lot of them from the 1800's and early 1900's, and each one is available as posters, framed prints, canvas prints and t-shirts. I've ordered several samples and they're all awesome. Patent art is just plain cool, and it's a lot of fun to just peruse patents looking for cool stuff. And I've managed to automate a lot of the work involved, so I'm pretty confident that within a few months I'll have the biggest selection of patent art on the web! I'm pretty excited about it. Here's a picture of me showing off one of my favorite prints: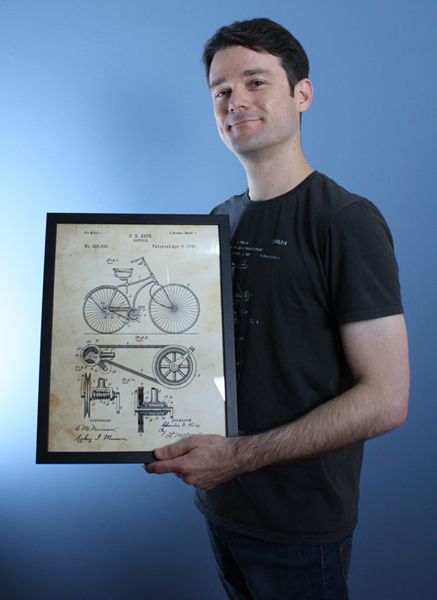 You can check out the website at https://www.patentearth.com/ and I'm also on Facebook, Instagram, Twitter, Tumblr and Pinterest if you're into any of those things.
That's it for now. Tales from Costa Rica to come!