I woke up feeling ill in Dali. I think it was something I ate the night before; so traveling back to Kunming was not a great experience for me. First there was nearly an hour long bus ride to the airport in Kunming, then the actual flight back to Kunming. I was actually feeling better by the time I got on the plane and feeling better still when I got off the plane, but the bus ride to our hotel in Kunming brought all the nausea back and I rushed up to my room as soon as I got the key card.
There were some more activities and meals that night but I skipped on them, staying in my hotel room to recover. I finally felt better later in the evening and went downstairs to have some hot tea and wait for everyone to get back. A few others joined me who had also decided to skip out on the days activities, so we just sat around chatting for a bit.
At this point, a few Chinese walk up to us and ask if we know David Hayward who is one of the veterans. As it so happens, his granddaughter was among our little group. It turns out this one of the Chinese group's father used to work directly with David Hayward during the war – they had seen him mentioned in the local news paper and came to the hotel in hopes of reaching him. It was really very cool, and made for a nice unexpected reunion when everybody else finally returned.
There was another unexpected surprise too – a rather unwelcome one. Due to a funding shortage, we had purchase our own airplane tickets back to Beijing. It was $168, pretty cheap as far as airfare goes but still a very unpleasant surprise. I hadn't spent much money on the trip so I was able to cover it, but at that point I was looking forward to returning home with a couple hundred bucks left in my pocket and now that was reduced to about $30.
Oh well, shit happens. I paid, because it was either that or be stuck in Kunming, and the next night we woke up early again and headed to the airport to go back to Beijing.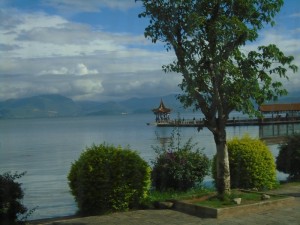 This time we just stayed in a basic airport hotel in Beijing so that we wouldn't have to deal with traffic on the way to catching the final flight. We still got to deal with tons of really bad traffic that night though when we headed out to dinner – it took us a solid 2 hours to get to the place, which supposedly has some of the best Peking Duck in all of Beijing. It was an upstairs restaurant with no elevator or handicap access, which was a problem with our group that included several guys in wheelchairs. They ended up moving a bunch of tables down to serve us, and finally we ate along with some guys from a local veterans group including some who apparently had a long history with the guys in our group.
It was a good meal – the duck was definitely good – but I think most of us would have settled for something less to not have to spend all that time on the bus. Oh well. We headed back to the hotel, got some sleep and the next morning went to the Beijing airport to fly back to America. It had been an amazing but exhausting journey across China, and we were all happy to be headed home.