Today was a very memorable day. We woke up extra early to make it out to the Forbidden City from which we observed the military parade. It was pretty awesome to be in the Forbidden City under these circumstances – it was largley empty, and completely devoid of tourists.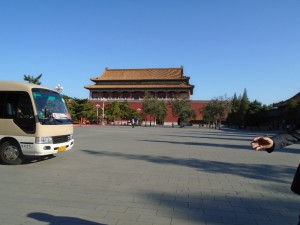 My grandfather and I had some of the best seats in the house, literally front row. It was a strange feeling having all these Generals (from a variety of countries, not just Chinese) sitting behind me – there was an awkward moment where a Russian General (or at least some kind of high ranking, heavily decorated officer) sitting behind me had set his hat on my seat and I had to ask him to move it. Fortunately he didn't seem too miffed about it.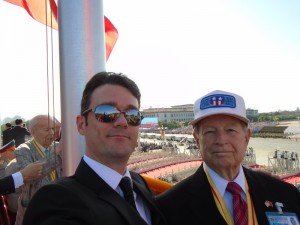 The military parade was impressive, and I got a lot of amazing photos and videos… and that's all I'm going to say about that for now.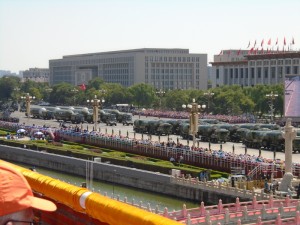 Afterwords we went to the Great Hall of the People and enjoyed a fabulous meal in the most impressive dining room I've ever seen. The novelty was greatly enhanced by the presence of very high level politicians and world leaders, including Presidents Xi Jinping and Vladimir Putin seated just a few tables away. At first there seemed to be a distinct lack of security personnel, until I realized that one of the people eating at my table was actually on security detail and there was one of them seated at nearly every table. Once the rest of the table caught wind of that, we had a nice chuckle.
The food was excellent, I lost count of how many courses there were. Unfortunately I stepped away from the table for a moment and when I returned my desert plate was gone – I didn't even get to taste any of it :'(
After the banquet it was back to the hotel for a couple hours of rest, then back to the Great Hall for the Commemoration Preformance. This turned out to be a musical re-enactment of World War 2 (from the Chinese perspective, of course) and was one of the most elaborately produced and well performed stage shows I've ever seen. And that's all I'm going to say about that for now.
All in all, it was a day I will never forget – there has been a lot of build up to this day and it certainly did not disappoint! I've also got several souveniours including a hat from the parade, a fancy menu from the banquet and several uber-official invitations to these functions. The invitations, aside from being fancy and elaborate, were also microchipped – I saw my face pop up on a screen as soon as I walked through the metal detectors. Hell of a security setup.
It's been an eye opening experience, and I'm greatful for it. I'm also greatful that I get to sleep in a bit tomorrow 🙂